$150,000 is needed to save and move Revolution Books
A call to everyone who cares about the future of humanity and our planet
Revolution Books lost its 26th Street space and is preparing to move into a new location in Harlem. To make this move, renovate a new store, and restock the shelves Revolution Books has to raise a total of $150,000, $70,000 of which is needed in the next two months. There is a role for everyone to play in making this happen. Read more here.
Revolution Books fights for critical thinking. Youth learn the method and import of science and the science of revolution. RB involves a unique and rare mix of people, from university students to people from the hardest streets, youth and people with years of experience, different nationalities, people from all over the world, and different genders—all coming together to grapple with how to understand and respond to all the various ways the system comes at the people—and why and how humanity can do so much better. At RB, the whole world comes first ... people engage and learn the real history of this country and its imperialist role in the world today.
All of this comes from the deep morality put forward by Bob Avakian that we need to bring forward a people and movement for the emancipation of all humanity—and not "the first shall be last and last shall be first."
Humanity Needs Revolution
The Revolution Needs Revolution Books
Revolution Books Needs You!
---
July 8, Wednesday, 7pm
Help Save & Move Revolution Books to Harlem
EMERGENCY MEETING
Location: 112 W. 27th St - 6th floor buzzer
The battle is on to save and move Revolution Books to Harlem. This bookstore is more essential than ever-- as police murder our youth in epidemic numbers, women's right to abortion is attacked, the planet itself endangered... Will there be a place where the people can find the books and engagement about why these horrors keep coming and how the world could be radically different, through revolution?
You are invited next Wednesday night to meet the staff and friends of Revolution Books and help plan out the next two months and the big move to Harlem... during what promises to be a hot summer for NYC and the world.
We had to move out of our 26th Street bookstore on May 31. We have just leased a great storefront in Central Harlem-- the new location will be announced at a press conference in mid-July. That week we'll also launch a big Indiegogo crowdfunding campaign, and on Saturday, July 18, we have a booth the Harlem Book Fair with a fundraising event afterwards.
YOU are needed to be part of making all of this happen to the max.
---
July 18, Saturday, noon-6pm
Revolution Books book table at
The Harlem Book Fair
Visit our book table and volunteer!
---
New and Important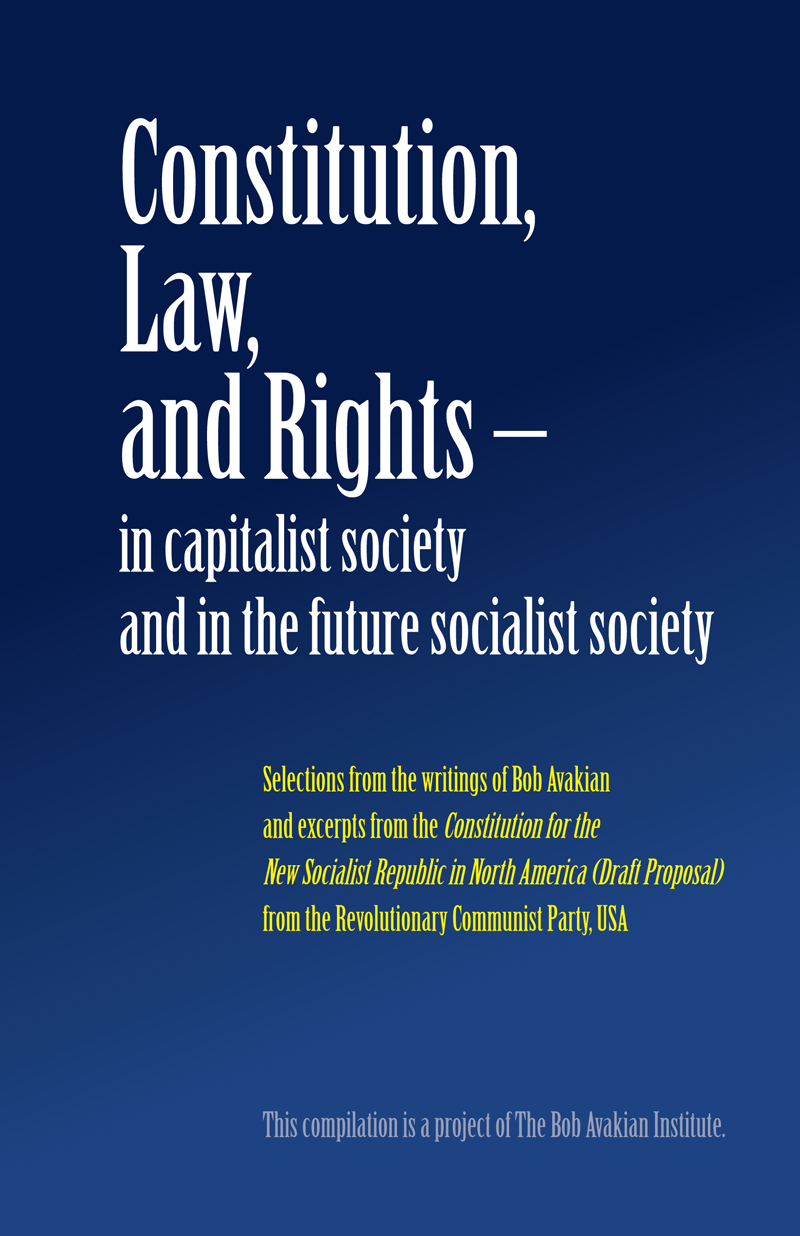 Constitution, Law, and Rights – in capitalist society and in the future socialist society is a compilation of selected writings from Bob Avakian, Chairman of the Revolutionary Communist Party, USA and excerpts from the Constitution for the New Socialist Republic in North America (Draft Proposal) from the Revolutionary Communist Party, USA. It brings a truly unique perspective to a subject that is of critical importance for all those concerned with social justice: Constitution, law, and rights.
Constitution, Law, and Rights is a 56-page paperback available for $6.00 at Revolution Books book tables.
---
---
---
---
---
---