---
September 23, Tuesday, 7pm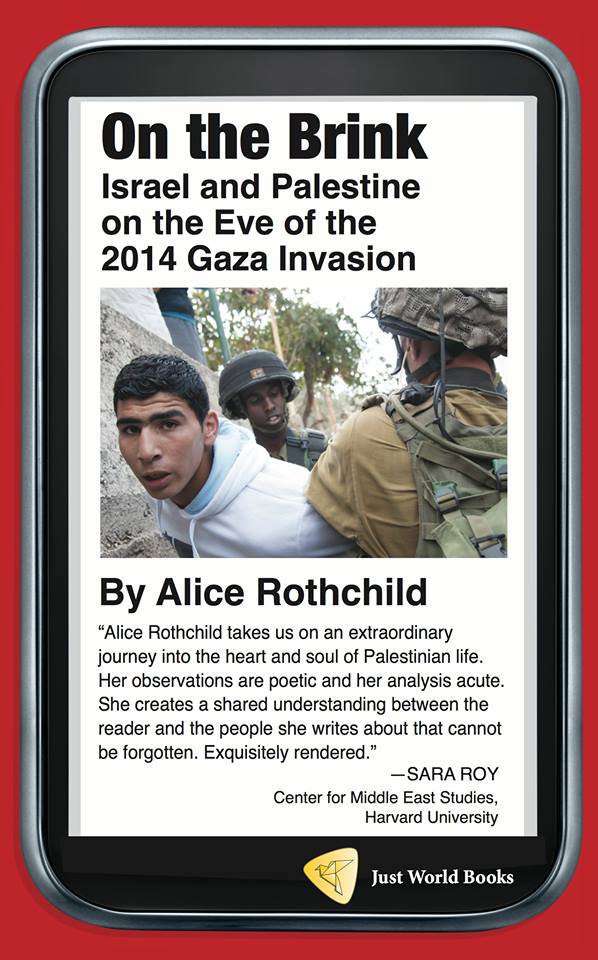 Author reading with Alice Rothchild
On the Brink: Israel and Palestine on the Eve of the 2014 Gaza Invasion
For three weeks this past June, Alice Rothchild, a physician, author, journalist and activist, traveled through the West Bank region of Palestine. Within a few weeks, Israel launched the savage massacre of the Palestinian people in Gaza -- a slaughter enabled and backed financially, militarily, and diplomatically by the United States.
From Alan Goodman's review of the book in Revolution:
"In the chapter 'Walking with Ghosts' we visit the ruins of Lifta -- a thriving center of Palestinian commerce, community and culture, until it was one of the 650 or so Palestinian cities and towns wiped out by Zionist ethnic cleansing. We brave virulent Israeli tear gas and rubber bullets with Palestinians and their allies who attempt to wage peaceful protests. We experience the incessant humiliation of the most overt and obscene Apartheid-style humiliation to which Palestinians are subjected not only every waking hour, but even in late night and early morning raids on their communities and homes. And we confront the genocidal terminology ubiquitous in Israeli culture. (E.g., A 'clean area' is a term used by the Israeli military to describe areas where no Palestinians live.)"
---
Sept

25, Thursday, 7pm (doors open 6:30)
"The Bob Avakian-Cornel West Dialogue, the Month of Resistance and Making a Major Leap Toward Revolution
A critical talk this week that will get into where we are in the revolution -- right now!
The talk will be given twice: Thursday evening at Revolution Books and Saturday, 11am-12:30pm (doors open at 10:30am) in Harlem, Location TBA.
All with a concern for the emancipation of humanity. All who know about, have gotten into and are are just learning about BA. Don't miss it!
---
THURSDAY EVENINGS AT REV BOOKS
October 2, Thursday, 7pm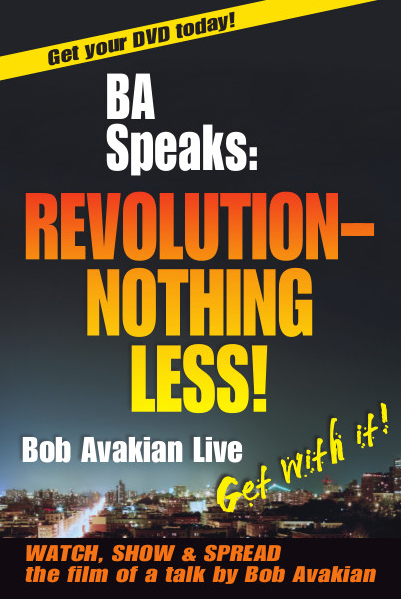 Discussions of sections from
BA Speaks: REVOLUTION—NOTHING LESS!
This week we will be screening and discussing the section of the talk entitled "We Need a Revolution to Overcome All Oppressive Divisions."
---
November 15, Saturday, 3-7pm
(doors open at 1:30)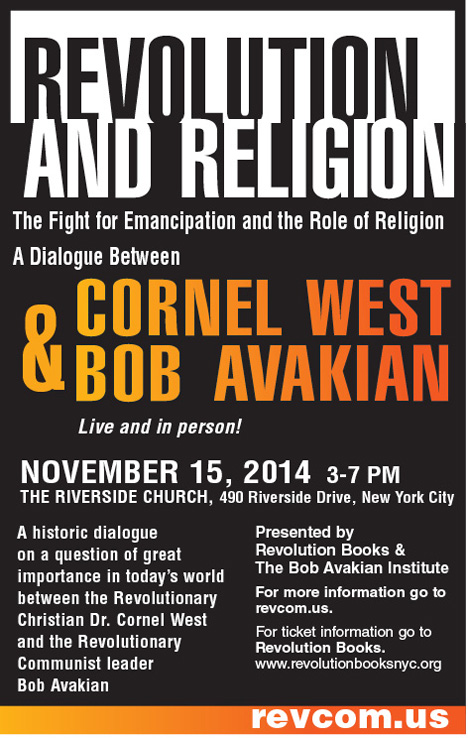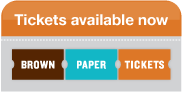 Bob Avakian is the Chairman of the Revolutionary Communist Party, USA. Bob Avakian (BA) came alive as a revolutionary in the 1960s. Since then he has given his heart and knowledge to serving the cause of revolution and the emancipation of humanity, and has consistently taken responsibility for leading the revolutionary movement -- theoretically and practically. He is an innovative and critical thinker who has brought forward a new synthesis of communism. His extensive and wide-ranging body of work includes writings and commentary on revolutionary strategy, philosophy, ethics, science, basketball, music, and religion, including the book Away with All Gods! Unchaining the Mind and Radically Changing the World. For more, go to revcom.us.
Cornel West is widely recognized as one of the most important and provocative public intellectuals of our time. A prolific writer and lecturer, West is Professor of Philosophy and Christian Practice at Union Theological Seminary in New York. A champion for the oppressed, West's writing, speaking and teaching draw inspiration from and weave together the Christian and Black prophetic traditions, radical democracy and jazz, R&B and hip hop. His book, Race Matters, changed the course of America's dialogue on race and justice. Cornel West's latest book, Black Prophetic Fire, will be published in October 2014. For more, go to cornelwest.com.
---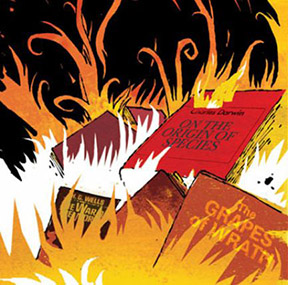 Save Revolution Books,
Adopt a Book for our Shelves
Go to Revolution Books on-line store
Book of the Week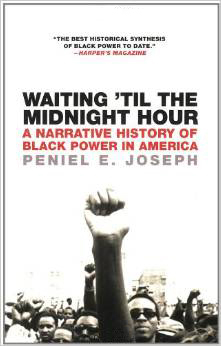 This week's Book of the Week is Waiting 'Til the Midnight Hour: A Narrative History of Black Power in America by Peniel E. Joseph, published by Henry Holt.
"Peniel Joseph represents the best of a new generation of scholars whose work will substantially revise our understanding of the Black Freedom Movement. Provocative and masterfully written, Waiting 'Til the Midnight Hour not only reveals the radical roots of Black Power but places the key activists and struggles within a global framework. It is one of those critically important books that will be read and debated for many years to come."
--Robin D. G. Kelley, author of Freedom Dreams: The Black Radical Imagination
"The challenge in writing a history of Black Power rests in negotiating a maze of political, social, and economic forces, balancing the interplay of local, national, and international events, respecting the influence of big and small actors, and appreciating the rich intellectual inheritance that informed this movement. Waiting 'Til the Midnight Hour tells this story with sensitivity to the connection between the smallest historical detail and the broad sweep of black struggle."
—Craig Steven Wilder, Professor of History, Dartmouth College and author of In the Company of Black Men
Waiting 'Til the Midnight Hour is a 432-page paperback $18.99 value available for $12 at Revolution Books this week only.
---
Now available as an e-book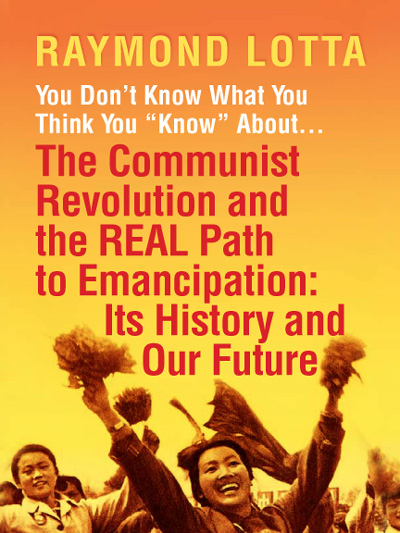 A Unique Resource
•Expanded and extensively footnoted revcom.us interview with Raymond Lotta
•Essays on "how do we know the truth?"
•Illustrated Timeline: The REAL History of Communist Revolution
Order information at Insight-Press.com
---
Bring your books to Revolution Books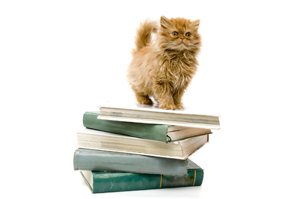 Do you have good used books? Donate them to Revolution Books.
We are assembling a large collection of good used books, including a treasure house of rare books-- the hidden histories of the Soviet and Chinese revolutions, memoirs from the 60s Black liberation and women's movements, out-of-print chronicles of struggles in Africa, Latin America, Asia... art books, novels, poetry...
Bring your books to Revolution Books and we will get them back in circulation to the people who yearn for a different future. And you will help keep this revolutionary bookstore open.
---
Become a Friend
of Revolution Books.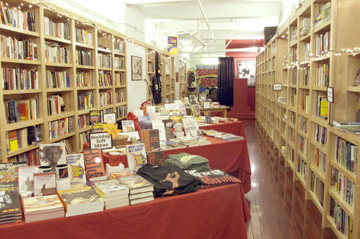 ---
"RB Gear" Now Available at Revolution Books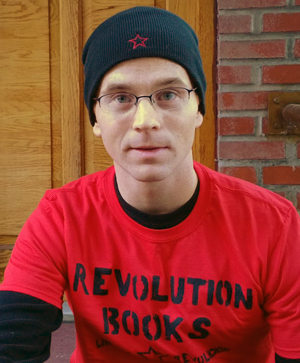 T-shirt $15
Knit cap $15
Canvas Tote Bag $10
---