Grand Opening of Revolution Books…
A Great Day in Harlem For the World!
November 17, 2015 | Revolution Newspaper | revcom.us
It was a brisk November afternoon in New York City. 437 Malcolm X Blvd. The sign atop the storefront was just finished: Revolution Books. Balloons were bobbing in the wind. A crowd was gathering and growing outside the entrance. People were expectant, many peering through the book display window. And then, at 2:30 p.m., the doors to Revolution Books opened.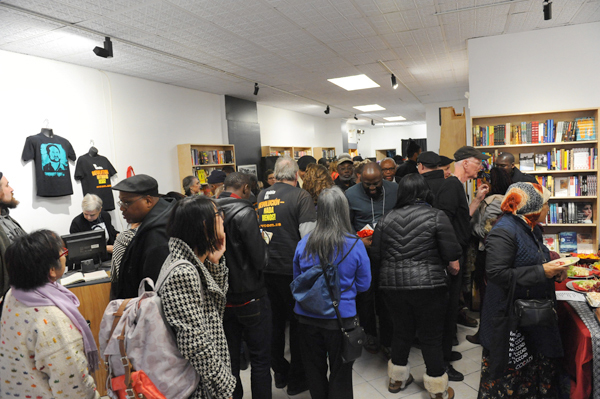 People entered wide-eyed, taking it all in. There were smiles, handshakes, and congratulations. "I was here over the summer when you first started renovating…it's incredible what's been done," a professional consultant commented. A student from Columbia University chimed in with pride: "We were working late last night to get it ready." And there were others like him and also people from the neighborhood contributing time, ideas, physical work, and funds. A long-time Harlem resident was beaming with delight: "We so need a bookstore like this!"
You walk in and quickly come upon the fiction section. Move along the wall and there are the shelves on the history of Black people. Look around and you encounter artwork, including African face masks donated by a Harlem resident and an old friend of Revolution Books. Glance at the wall opposite and there's the section titled "The Emancipation of Humanity," where Bob Avakian's work and communist theory and the history of the Russian and Chinese revolutions are featured. Okay, later to browse…people are taking their seats. It's now a full house inside, and outside (the event is sold out) people are sitting in folding chairs, sipping coffee, and waiting to watch and hear it all on monitors.
The grand opening celebration for Revolution Books in Harlem was about to begin.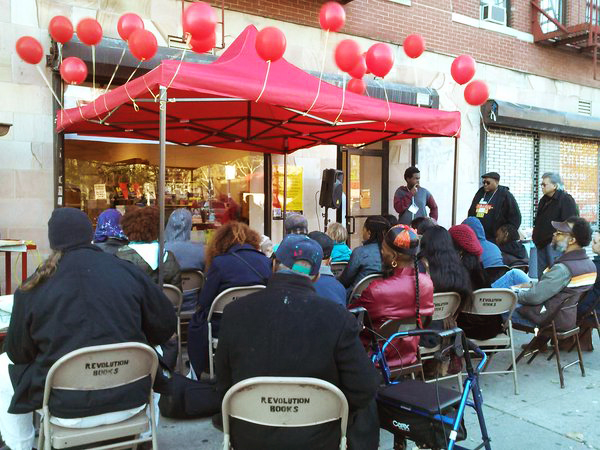 Overflow crowd at the opening, watching the program on a monitor | credit:revcom.us
Andy Zee, spokesperson for Revolution Books, went to the podium: "It is with great joy and with a serious sense of responsibility that comes from understanding what Revolution Books can mean for a radically different and better future for the people of the world, that I have the honor of opening the first program at the new Revolution Books in Harlem, NY." The audience erupted in applause. He continued: "And I say to the world: It's on! We're here. We're ready to make real just what we say we are. A center of a movement for an actual revolution, a bookstore with novels, poetry, history, science, philosophy, and more, a place about the world and for a radically different world."
November 15 was truly an exciting and momentous grand opening. The great Kenyan novelist Ngũgĩ wa Thiong'o had flown in specially to give a reading and talk on the occasion. Andy Zee spoke about the mission of Revolution Books. There was mingling and discussion. Ngũgĩ and Andy spoke at two programs in the new store: the afternoon event and a benefit dinner to help raise the $35,000 still needed for RB to be fully up and running.
People turned out from Harlem, and from around the city and beyond—people of different nationalities and ages; from different sections of society; students and scholars; activists and professionals; revolutionaries. All told, some 175 people came together to CELEBRATE. And they experienced a place where ideas and books and critical inquiry are taken seriously and joyfully—and that is a center of emancipation where you discover Bob Avakian and the new synthesis of communism, and a movement for an actual revolution to put an end to all exploitation and oppression. Where you are challenged and transformed. Read more . . .
Humanity Needs Revolution
The Revolution Needs Revolution Books
Revolution Books Needs You!
---