| | | |
| --- | --- | --- |
| | | VIDEOS OF PREVIOUS EVENTS |
---
"Friday the 13th", 5:30-9pm
Annual Revolution Books
Holiday Party!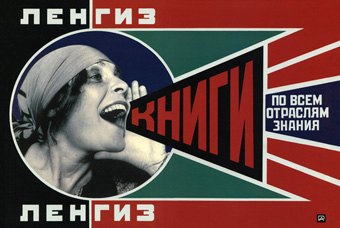 Stop by after work, share some holiday cheer, and pick up some great new books and presents.
---
December 14, Saturday, 6pm
Readings and conversation with
Martin Espada, Robert Hershon, and Rich Villar
Celebration at Revolution Books for the release of Hanging Loose #102.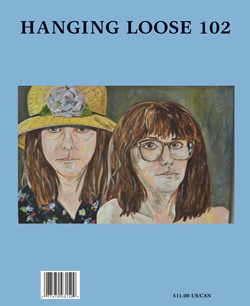 Hanging Loose is a poetry and arts magazine which has been publishing since 1966. Hanging Loose Press has published the first full collections by Sherman Alexie, Jack Agüeros, Cathy Park Hong, Maggie Nelson, Indran Amirthanayagam, among others.
Martin Espada has been called "the Latino poet of his generation." He's published more than 15 books as a poet, editor, essayist and translator. The Trouble Ball received the Milt Kessler Award. The Republic of Poetry was a finalist for the Pulitzer Prize. Imagine the Angels of Bread won an American Book Award. His book of essays, Zapata's Disciple, has recently been banned as part of the Mexican-American Studies Program outlawed by the state of Arizona.
Robert Hershon has written 13 books, most recently Goldfish and Rose (2013). He worked as the executive director of the Print Center and is a co-editor of Hanging Loose Press and Hanging Loose magazine.
Rich Villar directs Acentos, an organization fostering audiences and community around Latino/a literature. His debut collection, Comprehending Forever, is forthcoming in February 2014.
Book signing. Light refreshments. Donation requested to support Revolution Books.
---
December 17, Tuesday, 7pm
Author event with Michael Dowdy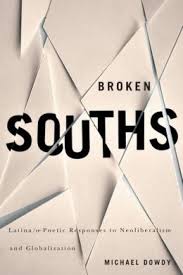 Broken Souths: Latina/o Poetic Responses to Neoliberalism and Globalization
Broken Souths: Latina/o Poetic Responses to Neoliberalism and Globalization offers the first in-depth study of the diverse field of Latina/o poetry. Its innovative angle of approach puts Latina/o and Latin American poets into sustained conversation in original and rewarding ways. In addition, Dowdy presents ecocritical readings that foreground the environmental dimensions of current Latina/o poetics. It features discussions of writers such as Victor Hernandez Cruz, Martin Espada, Juan Felipe Herrera, Guillermo Verdecchia, Marcos McPeek Villatoro, Maurice Kelwein Guevara, Judith Ortiz Cofer, Jack Agueros, Marjorie Agosin, Valerie Martinez, and Ariel Dorfman, alongside discussions of influential Latin American writers, including Roberto Bolano, Ernesto Cardenal, David Huerta, Jose Emilio Pacheco, and Raul Zurita.
For those who want to listen to and engage with an author who has the whole world's tectonic movements in mind when discussing how radical and progressive poets see this, it is surely going to be an enlightening evening.
"Broken Souths succinctly stated is a magnificent piece of writing in terms of originality, sophistication, and scope" --Francisco A. Lomeli
Michael Dowdy is assistant professor of English at Hunter College. He is also author of American Political Poetry into the 21st Century and a chapbook of poems, The Coriolis Effect.
---
December 19, Thursday, 7pm
Viewing and discussion of clip from BA Speaks: REVOLUTION—NOTHING LESS!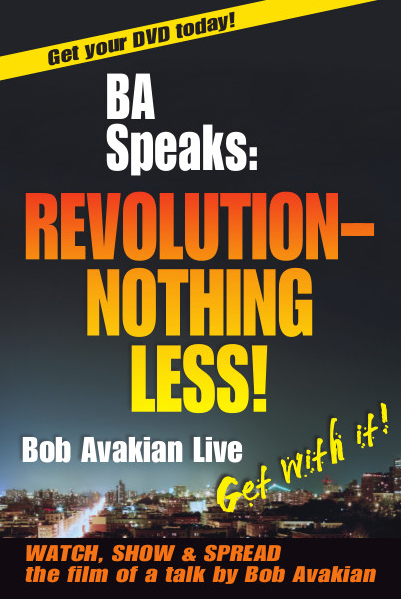 Resisting the Brainwash -- A Radical Revolt Against a Revolting Culture
In this section, Avakian goes into the commodification of culture and its promotion of mindless, self-seeking individualism. One particularly putrid example of this is the promotion of mysogyny and "guy culure," and the effect this has on the youth coming up. A radical revolt against the "culture" of capitalism is demanded.
---
December 7, Saturday, 7pm
(doors open at 6:30)
New York Premiere Celebration of the New Documentary Film: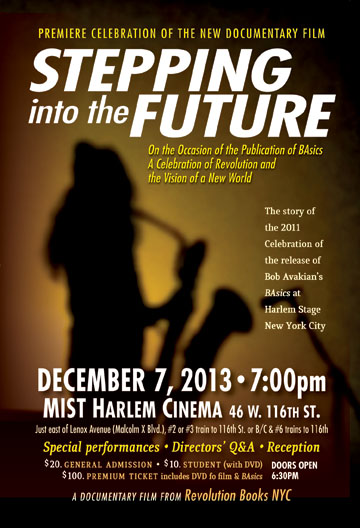 MISTHarlem Cinema
46 W. 116th Street
(just east of Lenox Ave., #2 or #3 train to 116th St., or, with several block walk: B/C & # 6 trains to 116 St.)
With special live performances by Matthew Shipp, William Parker, Maggie Brown and Abiodun Oyewole, Directors' Q&A with Annie Day and Andy Zee, and reception.
$20 general admission
$100 Premium Ticket includes DVD & BAsics
$10 Student (with ID)
Full information and buy tickets here.
---
Book of the Week!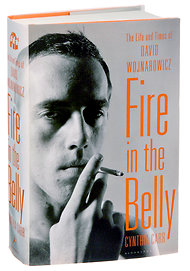 This week's Book of the Week is Fire in the Belly: The Life and Times of David Wojnarowicz by Cynthia Carr, published by Bloomsbury USA.
One of the first wave of East Village artists which included Jean-Michel Basquiat, Nan Goldin, Peter Hujar, Keith Haring, and many others, David Wojnarowicz began showing his work in the early 1980s in galleries such as Civilian Warfare, Club 57, Gracie Mansion, Fashion Moda, and the Limbo Lounge. He was included in the 1985 Whitney Biennial, and soon was appearing in museum and gallery exhibitions throughout the United States, Europe and Latin America.
Wojnarowicz died in 1992 at the age of 37 from complications with AIDS. In 2010, he was attacked by fascist Christians (Rep. John Boehner et al) for his video A Fire in My Belly, in the "Hide/Seek" exhibition at the National Portrait Gallery in Washington, D.C. The work included an image of fire ants crawling on a crucifix.
Fire in the Belly is a 624-page paperback $22.00 value for only $14 at Revolution Books this week only.
---
Now available on DVD!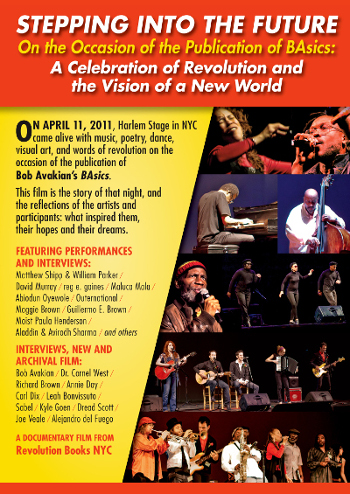 For an evening, on April 11, 2011, hundreds of people joined in a thrilling taste of revolutionary possibility at Harlem Stage in NYC. BAsics from the talks and writings of Bob Avakian—the handbook for revolution in the twenty-first century—had just been published (and today is in its second printing). To mark the occasion, musicians, dancers, poets, actors, visual artists, came together with revolutionaries and activists from the 1960s down to today for a cultural event titled: "On the Occasion of the Publication of BAsics: A Celebration of Revolution and the Vision of a New World."
75min DVD for $14.00. Price includes sales tax and shipping.
---
BUY YOUR HOLIDAY GIFTS FROM REV BOOKS ON LINE!
Buy the books that really matter for all your family and friends from the new Revolution Books on-line store.
---
"RB Gear" Now Available at Revolution Books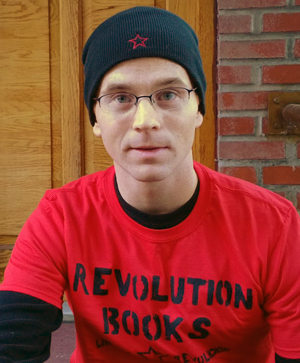 T-shirt $15
Knit cap $15
Canvas Tote Bag $10
---

Donate to buy a high definition video projector for Revolution Books!
To produce a great film series this fall and winter at Revolution Book, we need a high definition video projector that costs $700. Make a contribution and get a discount on series tickets!
---
SAVE REVOLUTION BOOKS!
Contribute or become a monthly sustainer.
---
---
Become a Friend
of Revolution Books.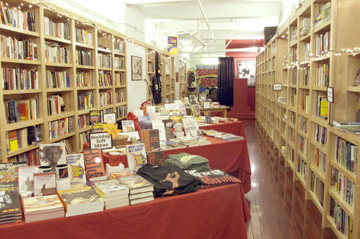 ---
Bring your books to Revolution Books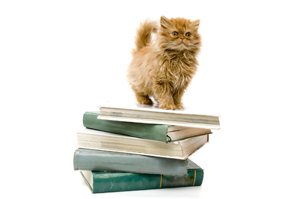 Do you have good used books? Donate them to Revolution Books.
We are assembling a large collection of good used books, including a treasure house of rare books-- the hidden histories of the Soviet and Chinese revolutions, memoirs from the 60s Black liberation and women's movements, out-of-print chronicles of struggles in Africa, Latin America, Asia... art books, novels, poetry...
Bring your books to Revolution Books and we will get them back in circulation to the people who yearn for a different future. And you will help keep this revolutionary bookstore open.
---