Answers
Revolution Books Science Quiz
Question 1:
The correct answer is C. The dinosaurs lived and died out long before the sabre tooth cat and human beings (homo sapiens), which did live at the same time. Contrary to various religious myths (and the creationist "museums"), all the animals were not created at the same time—nor by a god. They evolved over a long time. Most of the forms of animals that once existed are now extinct.
Question 2:
The correct answer is B. Trees actually absorb greenhouse gases which is a good thing. Tractors give off carbon dioxide (a greenhouse gas) and cows breathe out carbon dioxide and fart methane (another greenhouse gas). But cows are NOT the cause of global warming! The great bulk of greenhouse gases come from burning fossil fuels like coal and gasoline.
Question3:
A. is a rabbit embryo, B. is a chicken embryo, and C. is a human embryo. This was a trick question because you cannot tell the correct answer by just looking at the tiny embryos. And, yes, human embryos have tails! What you learn from these embryos is that most higher animals develop in a very similar way. They differ mainly in the genetic information that is stored in their DNA. Humans are a type of great ape that evolved an ability to walk upright and make tools.
* * *
For more on the science of evolution and why it's important to know how the world actually works, we recommend: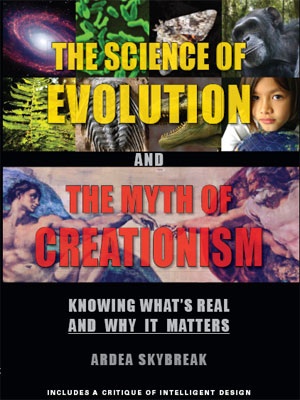 Available at Revolution Books. Bring in your copy of the quiz for a 10% discount.