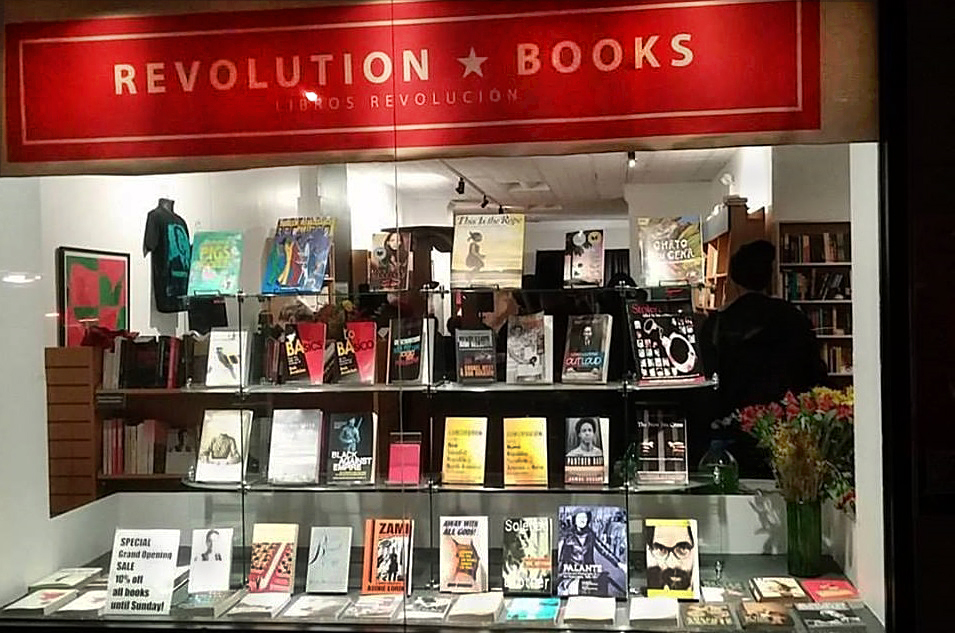 Ask yourself:
At a moment when the future hangs in the balance … with a fascist elected president building a regime based on virulent xenophobia, racism and woman-hating … how important is it to you that there is a place with a remarkable collection of books, that fosters critical thinking and opens the possibility of a radically different world?
Revolution Books matters now and for the future. Please give generously.
• Make a donation. We've raised $27,500 of the $40,000 needed to keep RB open, build a stage, install HVAC, and awning. Urgent need to raise remaining $12.500 by January 1.
• Become a monthly sustainer. See right column below. All sustainers who give $20/month or more receive 10% off books, free admission to many events, plus a mug or tote bag. Anyone sustaining at $35/month or more also receives a new book every other month—current selection below. We aim to sign up 2 new sustainers each day thru Jan 1.
• Buy a $65 Basics sustainer, the holiday gift that keeps on giving, for a favorite friend or family member.
You can donate in two ways:
1. Revolution Books (see below)
2. Revolution Books Educational Fund, Inc.-- If you wish to make your contribution tax-deductible, give to RBEF, a 501(c)3 entity that sponsors RB's events. Click here.
Donald Trump aims to cohere a regime and an unrestrained mass base around the most vile white supremacy, patriarchy, expanded surveillance and repression and more. Revolution Books is calling this out for what it is: American fascism. And right now we're hosting "65 Defiant Days of Talks, Dialogues & Culture"—events on why this happening and how to fight it.
Revolution Books is the one place you can discover a new and more scientific and liberatory understanding of communism. People ask: is another world possible? Yes! Bob Avakian has summed up the experience of communist revolution, drawing from diverse spheres of human endeavor, and he's developed the new communism. At RB, you can connect with the movement for an actual revolution.
All sustainers at $35/month or more receive the above, plus a new book every other month. RB sends out a selection of 5 great books, you choose one, and we mail it to you.
Current selections are:
A Contribution at Any Level

Any donation above $2500: Please contact Connie Julian, Development Director, at 212-691-3345

Become a Monthly Sustainer

| | |
| --- | --- |
| | $10/month (student/low income) |

| | |
| --- | --- |
| | $35/month (6 Books/Year Sustainer) |

| | |
| --- | --- |
| | $65/year (Basic Sustainer) |

Monthly sustainers receive: 10% off books. Free admission to most events

$65 - BAsic Sustainer support the bookstore and receive a copy of BAsics, from the talks and writings of Bob Avakian