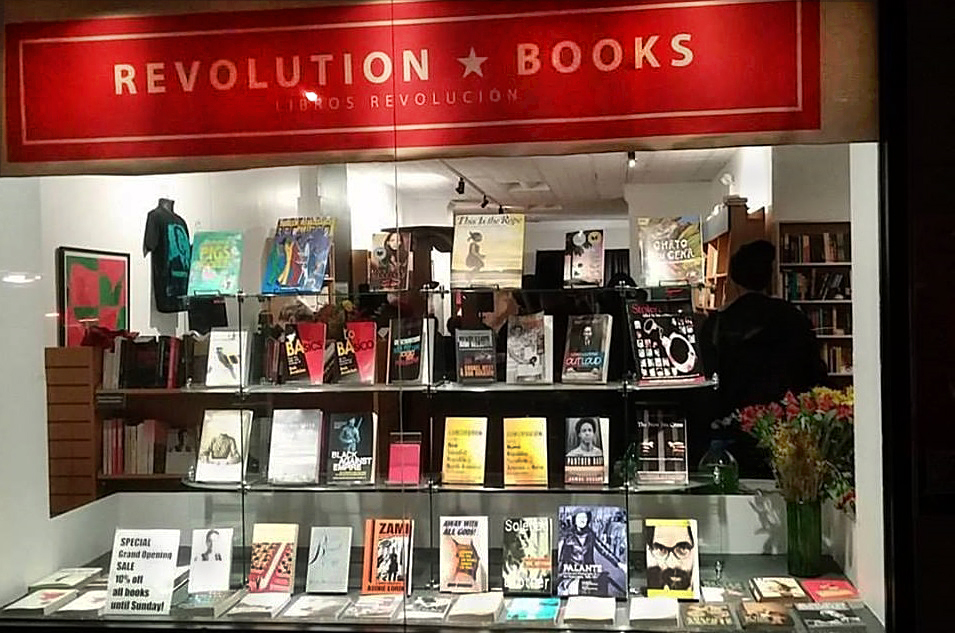 Revolution Books needs your support right now
The first ten months of Revolution Books in Harlem have been incredible. The new bookstore has become the site of countless eye-opening talks and discussions, author programs, deep engagement with the biggest questions facing humanity. RB is fulfilling its unique mission as the place where people come to find the books and engagement with why the world is the horror it is and how it can be radically changed through revolution.
The reality is that Revolution Books survives only with the support of people. The RB Indiegogo crowd-funding campaign raised over $25,000 this past August—a great victory with over 300 of you donating. The campaign showed the tremendous potential of a bookstore with revolution and communism at its core to take hold and gain financial support.
A warm thanks to all. As promised, work has begun on 1) ordering many new books, 2) installing air-conditioning, 3) building a stage, 4) producing proper signage for the front window. Raising the $25,000 was part of a larger plan this fall to a) raise $40,000 and b) double our sales and double our monthly sustainers.
We are counting on you continuing to donate generously (left column below), and become monthly sustainers (right column below). This is how RB will become financially solvent, able to impact the world on a whole other scale in these times of unprecedented peril and opportunity for humanity.
For those who wish to make tax-deductible donations, we are happy to announce the new Revolution Books Educational Fund, Inc., a 501(c)3 non-profit corporation that sponsors the educational programming at RB. Please go here to contribute to RBEF.
3 Ways to Give:
1. Give on this page to Revolution Books (see left column below).

2. Become a Revolution Books monthly sustainer (see right column below). All sustainers who give $20/month or more receive 10% off books, free admission to many events, a mug or tote bag.

3. Join the "6 Free Books a Year Sustainer Program" All sustainers at $35/month or more receive the above, plus a new book every other month. RB sends out a selection of 5 great books, you choose one, and we mail it to you. Now, until August 28, we are offering this sustainer program at $30/month.

Current selections are:
A Contribution at Any Level

Any donation above $2500: Please contact Connie Julian, Development Director, at 212-691-3345

Become a Monthly Sustainer

| | |
| --- | --- |
| | $10/month (student/low income) |

| | |
| --- | --- |
| | $30/month (SALE: 6 Books/Year Sustainer) |

| | |
| --- | --- |
| | $35/month (6 Books/Year Sustainer) |

| | |
| --- | --- |
| | $65/year (Basic Sustainer) |

Monthly sustainers receive: 10% off books. Free admission to most events

$65 - BAsic Sustainer support the bookstore and receive a copy of BAsics, from the talks and writings of Bob Avakian