---
December 19, Friday, 5:30-9pm
You are invited to the:
Revolution Books Holiday Party!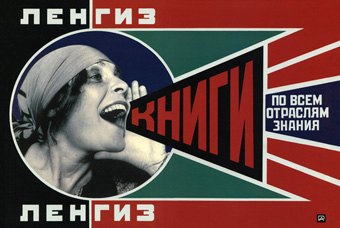 "BOOKS on all the branches of knowledge!"
1924 poster by Aleksandr Rodchenko
Location:
Revolution Books
146 West 26th Street (btwn 6th & 7th Aves)
At this moment when tens of thousands are raising their heads in resistance, at this moment when so many are asking "isn't there another way?", Revolution Books stands out as a beacon to a different future.
Come by on Friday to meet the revolutionaries, get gift books that really count for family and friends, and toast a different future for humanity!
Humanity Needs Revolution
Revolution Needs Revolution Books
Revolution Books Needs You
---
Video of the historic Dialogue between Cornel West and Bob Avakian here:
Contribute here to make this Dialogue known and seen throughout society:
---
AVAILABLE AGAIN!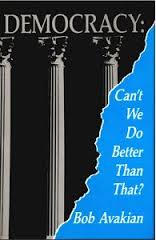 Phoneme Publishers of Delhi, India has republished Democracy: Can't We Do Better Than That? by Bob Avakian. This is a welcome event. It brings Avakian's text—the most comprehensive Marxist treatment of democracy—to a much wider audience in India and elsewhere. For this new printing, Raymond Lotta has written a special introduction.
Is democracy, or "true" democracy, the pinnacle of human social organization? Is the fundamental goal of socialist revolution the broadening and deepening of democratic institutions? Bob Avakian argues that there is something far more subversive of the status quo, something far more liberating, than democracy. Avakian's landmark work, originally published in 1986, takes on heightened relevance in today's world.
Revolution Books has a limited number of copies available for $20.
---
NOW AVAILABLE AS
AN E-BOOK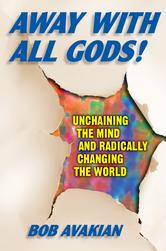 Away With All Gods! Unchaining the Mind and Radically Changing the World by Bob Avakian, published by Insight Press, is now available as an e-book!
"Away with All Gods! is a powerful and erudite critique of religion and superstition and a rousing call to place our trust in reason and the scientific method....Unusual for an atheist work and in marked difference to works of Sam Harris and Richard Dawkins Avakian went further to explore the way in which religion is used to sustain the status quo and as a reactionary force by political power mongers...He stands against not only religion and superstition but for reason and science and shows us what an alternative way of living can really be like. More importantly he shows us the revolutionary potential of finally doing away with all gods and what such a new world could look like."
— Synergy Magazine
eBook available at your favorite online retailer $9.99 retail (discounted at some online retailers) Click on the retailer name to go directly to their website.
Amazon.com
Apple iTunes
Barnes & Noble
ebooks.com
IPG
Kobo
---
Bring your books to Revolution Books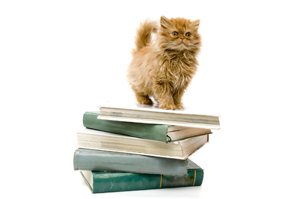 Do you have good used books? Donate them to Revolution Books.
We are assembling a large collection of good used books, including a treasure house of rare books-- the hidden histories of the Soviet and Chinese revolutions, memoirs from the 60s Black liberation and women's movements, out-of-print chronicles of struggles in Africa, Latin America, Asia... art books, novels, poetry...
Bring your books to Revolution Books and we will get them back in circulation to the people who yearn for a different future. And you will help keep this revolutionary bookstore open.
---

Gift Certificates
We have gift certificates for any amount. We will drop the gift card in the mail to them, you, or send it by email. Call us or buy online here:

---
Become a Friend
of Revolution Books.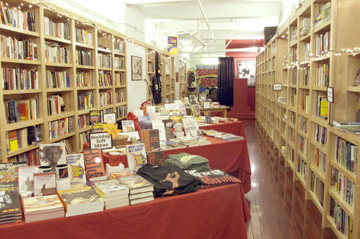 ---