May 30, Thursday, 7pm
Socialism Is Three Things
Continuing weekly Thursday viewings of clips from the BA Speaks: REVOLUTION—NOTHING LESS!, followed by informal discussion. This week on the section of talk entitled "Socialism Is Three Things."
---
June 4, Tuesday, 7pm
Dread Scott: Decision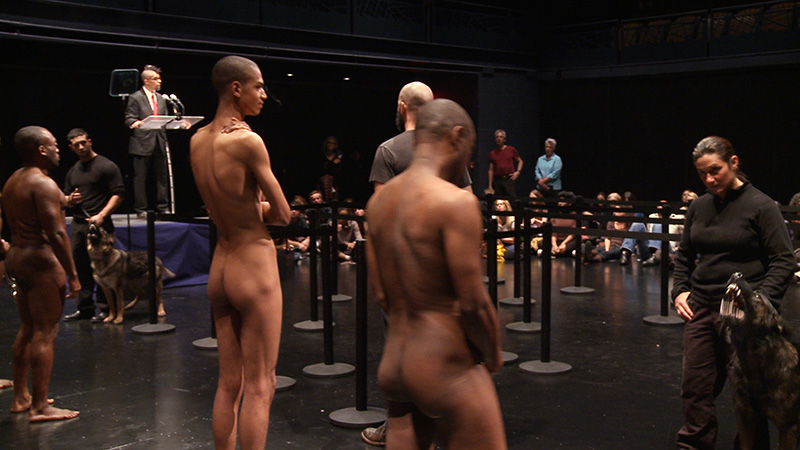 First of a new Revolution Books series hosted by Andy Zee: "A Culture of Revolt ... Revolutionary Art--Discussions on Creating a Liberating Culture." Dread Scott will discuss his performance Dread Scott: Decision that was performed at BAM last Fall. The performance was a visceral look at American democracy's foundation in slavery. In the artwork, Nude Black men were controlled by live German Sheppard dogs while Dread read the text of the 1857 Supreme Court Dred Scott decision, which read in part, that Black people were "so far inferior, that they had no rights which the white man was bound to respect." The audience was an integral element of the performance and had to walk through the line of Black men to get to a voting booth where they faced an ethical question related to the legacy of slavery. Dread will show video footage of the performance and will be joined in conversation by director Mallory Catlett, and performers Lawrence Graham Brown and Roc Belizaire who performed with him
---
June 7, Friday, 7pm
Author event with Mary Price Boday
A Dancer's Journey --
It All Began with a Lie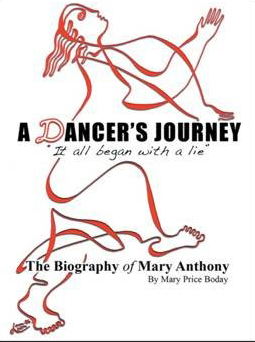 Mary Anthony is one of the unrecognized heroes in the history of modern dance. During the time she taught for Hanya Holm, she trained Alwin Nikolais and later in her own school, her teaching was an influence on the lives of many dancers. Despite her influence, Mary is not recognized on the modern dance history tree.
A Dancer's Journey - It All Began with a Lie covers Mary Anthony's childhood, as well as the joys and hardships she experienced in the course of achieving her dreams. Included is the creation of her school, and later, her company. The book explores her golden years, her struggles, and surviving her greedy landlord in New York City.
---
June 11, Tuesday, 7pm
Author event with Bruce Neuburger
Lettuce Wars: Ten Years of Work and Struggle in the Fields of California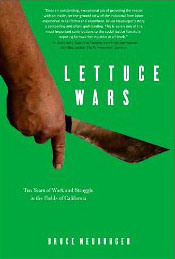 Bruce Neuburger will discuss his book on the history of the powerful farm workers movement that surged out of the fields beginning in 1965, what became of that movement, and the situation of California farmworkers today.
"Bruce Neuburger's Lettuce Wars adds a new and carefully observed chapter to the farm labor saga in Steinbeck country during the Chavez years. The author details the exhausting work, low pay, strikes, and setbacks as well as his encounters with key union leaders and the friendships that sustained him. But don't mistake Lettuce Wars for an ethnography or regional history. It's the story of Neuburger's real life in a notoriously hardscrabble labor market, one that seemed like a vestige a generation ago but now serves as the default model in a new era of global neoliberalism. If you've ever felt that we're all "casual labor" now, 'Lettuce Wars' is the book for you."
--Peter Richardson, author of A Bomb in Every Issue: How the Short, Unruly Life of Ramparts Magazine Changed America
The author's presentation will be followed by a conversation with a someone from Revolution Books and the audience. Think about how our food is produced, who does it and under what conditions. And the most basic question: how can it be that we live in a world in which there is no right to eat? What might all this look like under different conditions in a revolutionary society? Check out this piece from Bob Avakian.
---
What is a book? For Kindle and Nook owners.
---
Book of the Week!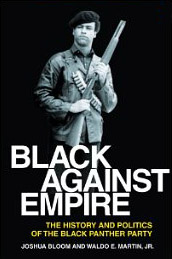 This week's Book of the Week is Black against Empire: The History and Politics of the Black Panther Party by Joshua Bloom and Waldo E. Martin Jr., published by University of California Press.
In Oakland, California, in 1966, community college students Bobby Seale and Huey Newton armed themselves, began patrolling the police, and promised to prevent police brutality. Unlike the Civil Rights Movement that called for full citizenship rights for blacks within the U.S., the Black Panther Party rejected the legitimacy of the U.S. government and positioned itself as part of a global struggle against American imperialism. In the face of intense repression, the Party flourished, becoming the center of a revolutionary movement with offices in 68 U.S. cities and powerful allies around the world.
"Black Against Empire is the first comprehensive overview and analysis of the history and politics of the Black Panther Party. The authors analyze key political questions, such as why so many young black people across the country risked their lives for the revolution, why the Party grew most rapidly during the height of repression, and why allies abandoned the Party at its peak of influence. . . . Informed by twelve years of meticulous archival research, as well as familiarity with most of the former Party leadership and many rank-and-file members, this book is the definitive history of one of the greatest challenges ever posed to American state power."
- University of California Press
"This is the definitive history of one of the great revolutionary organizations in the history of this country. In this age of the Occupy Movement, let us learn deep democratic lessons and strong anti-imperial conclusions from this magisterial book!"
--Cornel West
Black Against Empire is a 560-page hardbound $34.95 value for only $24 at Revolution Books this week only.
---
Buy your books at Revolution Books where it matters. Cutting edge books to challenge, provoke, give heart and share insight.
▶ YES, there is an alternative to capitalism! Books on political economy and science of revolution.
▶Books on science, evolution and atheism -- there are no gods.
▶ Radical revolt against a revolting culture. Great new music, fiction, poetry, prose, graphic art, and DVDs.
▶ End "the new Jim Crow." Books on national oppression and the mass incarceration of people of color.
▶ The liberation of women. Books on this touchstone issue for the emancipation of all humanity.
▶ The wonderment and science of reality for children. Fun books and books on knowing what's really true.
▶ Libros en Español.
---
Buy BAsics on line!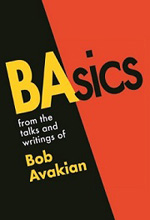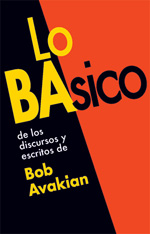 BAsics is a new book of quotes and essays from Bob Avakian, Chairman of the Revolutionary Communist Party, USA. BAsics concentrates more than 30 years of Avakian's work on everything standing between humanity and complete emancipation into a single concise book of essential quotes and short essays.
A 210-page paperback for $14.00. Price includes sales tax and shipping.
---
A Radical Step
Into the Future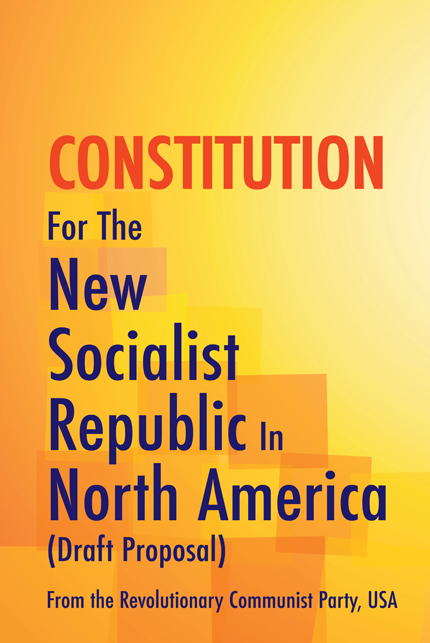 ORDER ONLINE NOW!
This Constitution (Draft Proposal) is written with the future in mind. It is intended to set forth a basic model, and fundamental principles and guidelines, for the nature and functioning of a vastly different society and government than now exists: the New Socialist Republic in North America, a socialist state which would embody, institutionalize and promote radically different relations and values among people; a socialist state whose final and fundamental aim would be to achieve, together with the revolutionary struggle throughout the world, the emancipation of humanity as a whole and the opening of a whole new epoch in human history–communism–with the final abolition of all exploitative and oppressive relations among human beings and the destructive antagonistic conflicts to which these relations give rise.
Paperback, 91pp., $8.
---
Bring your books to Revolution Books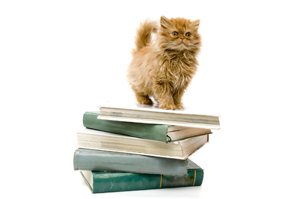 Do you have good used books? Donate them to Revolution Books.
We are assembling a large collection of good used books, including a treasure house of rare books-- the hidden histories of the Soviet and Chinese revolutions, memoirs from the 60s Black liberation and women's movements, out-of-print chronicles of struggles in Africa, Latin America, Asia... art books, novels, poetry...
Bring your books to Revolution Books and we will get them back in circulation to the people who yearn for a different future. And you will help keep this revolutionary bookstore open.
From time to time Revolution Books holds a Giant Used Books Sale. We fill the store and tables outdoors with thousands of the best used books in the city. And every day at the store you can find an unusual selection of used books on our outdoor tables.
---
| | | |
| --- | --- | --- |
| | | ALL VIDEOS OF PREVIOUS EVENTS |
---
---
April 29-May5, staff and volunteers from Revolution Books attended a number of sessions of the PEN World Voices Festival. We distributed reprints of "A Question Sharply Posed: Nat Turner or Thomas Jefferson" by Bob Avakian and the following letter from Revolution Books:
SAVE REVOLUTION BOOKS
Humanity Needs Revolution
Revolution Needs Revolution Books
Revolution Books Needs You
Revolution Books needs your support now. RB's lease has come up for renewal and your support is essential. There is no other place like RB – where people discover and engage the world and the possibility for radical change – a bookstore at the center of a movement for revolution. Become a sustainer of RB today, Donate funds, Buy books. Come to RB. Experience it. Read more ...
---
We received this contribution from a friend of Revolution Books who attended the author reading at the bookstore on April 28 with Pam Olson:
HUMANIZING THE PALESTINIANS: Pamela Olson at Revolution Books
The daily struggles—and essential humanity—of Palestinians living under Israeli occupation came alive at Revolution Books on Sunday afternoon, March 28th, when Pamela J. Olson gave an illustrated reading and talk spotlighting her acclaimed new book, "Fast Times in Palestine: A Love Affair with a Homeless Homeland" (Berkeley, CA: Seal Press), which is now available at Revolution Books. Read more ...
---
Quote of the Month


from Bob Avakian
Let's get down to basics: We need a revolution. Anything else, in the final analysis, is bullshit. Now, that doesn't mean we don't unite with people in all sorts of struggles short of revolution. We definitely need to do that. But the proffering of any other solution to these monumental and monstrous problems and outrages is ridiculous, frankly. And we need to be taking the offensive and mobilizing increasing numbers of masses to cut through this shit and bring to the fore what really is the solution to this, and to answer the questions and, yes, the accusations that come forth in response to this, while deepening our scientific basis for being able to do this. And the point is: not only do we need to be doing this, but we need to be bringing forward, unleashing and leading, and enabling increasing numbers of the masses to do this. They need to be inspired, not just with a general idea of revolution, but with a deepening understanding, a scientific grounding, as to why and how revolution really is the answer to all of this.
Bob Avakian
Chairman of the Revolutionary Communist Party, USA
BAsics 5:11
---
Become a Friend
of Revolution Books.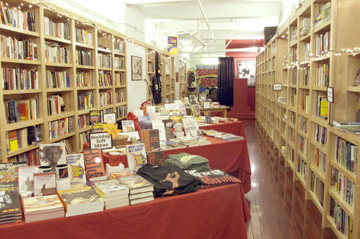 ---